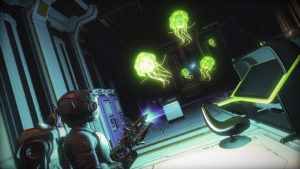 No Man's Sky released a free update to Xbox One today that adds a bit of horror to the vast space adventure game. The update brings haunted abandoned freighters to the game and promises great rewards and dangers.
Scavenge and survive in the haunted wreckage of derelict freighters with the Desolation update. Introducing procedurally-generated freighters, more story content, combat improvements, freighter customisation and more!
Here's some of the new features:
Interior of each freighter is procedurally generated so that no two are the same.
Abandoned freighter stories are procedurally generated as well.
Nests full of dangerous aliens.
Improved lighting effects in several aspects.
Improved weapons visuals.
Hundreds of player titles.
More multiplayer missions.
Change the color of your freighter.
There's many more updates than what we've included here. Read about all of them on the No Man's Sky website.
Watch the No Man's Sky Desolation Update trailer below: