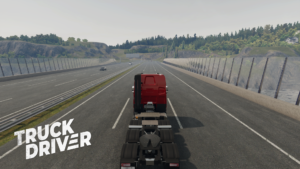 The developers of Truck Driver are asking players what they want to see in future updates. Truck Driver is the first of its kind on console, but received poor reviews. The world seemed empty and the physics made it feel more like an arcade game than a real simulation.
Developers
released an update at the end of June
that laid the groundwork for what promises to be more intelligent AI. Previously, other drivers would habitually turn and crash right into your rig. Now they come to complete stops in the middle of highways. Needless to say, Soedesco has their work cut out for them.
Many players have been asking for a wide range of updates. This seems to be an attempt for the developers to narrow down what players want most and give it to them. The survey asks for email address, five suggestions, which platform being used, the amount of hours played, and whether your want to be updated on the survey. You can access the survey by clicking the link in the embedded tweet below.
🚚 We want to know your top five most wanted features or content for Truck Driver! As we receive a lot of suggestions, we want to rearrange our current list's priorities. Let us know what you'd like to see in Truck Driver 👉 https://t.co/Vu5Jy9i4TQ#TruckDriverGame pic.twitter.com/tUDuFJ1YWT

— SOΞDΞSCO (@SOEDESCO) July 8, 2020