The wildly popular Zoo Tycoon series gets fully-remastered and set to crank up the excitement, challenge, and fun of building the ultimate zoo. Let your imagination run wild with Zoo Tycoon: Ultimate Animal Collection! Choose from almost 200 visually stunning animals and the largest, most detailed selection of environments ever, then build, manage, and maintain your dream zoo alone or with up to four players on Xbox LIVE. This zoo simulation will charm animal lovers of all ages.
Easy to start and easy to play, Zoo Tycoon gets you up close and interacting with the animals and zoo, offering intuitive controls and fun tutorials that allow players of all ages to have fun. Play smart as animals and guests will react to your creative choices and ultimately decide your chances to become a Zoo Tycoon.
Surviving Mars is a sci-fi settlement builder all about colonizing Mars and surviving the process. Choose a space agency for resources and financial support before determining a location for your colony. Build domes and infrastructure, research new possibilities and utilize drones to unlock more elaborate ways to shape and expand your settlement. Cultivate your own food, mine minerals or just relax by the bar after a hard day's work. Most important of all, though, is keeping your colonists alive. Not an easy task on a strange new planet.
Are you ready? Mars is waiting for you.
Climb aboard the latest installment in the 10-year strong Train Simulator series and challenge yourself to drive diesel, electric and steam locomotives from across the globe with Train Simulator 2020. TS20 features a new selection of routes and new features to make your train simulation experience all the more personal.
The incredible authenticity of the locomotives in Train Simulator 2020 means you are truly in control. Manage your engine, passengers, safety systems, signalling and much more from the comfort of the cab, with controls that perfectly re-create the operations of real trains.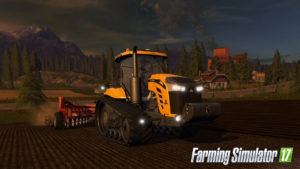 Immerse yourself in a huge open world loaded with a yield of new content. Explore farming possibilities over hundreds of acres of land, including a detailed new North American environment. Drive over 250 authentic farming vehicles and equipment from more than 75 manufacturers, including huge new brands such as Challenger, Fendt, Massey Ferguson and Valtra.
Harvest many types of crops, including for the first time sunflowers and soy beans. Take care of your livestock – cows, sheep, chickens and now pigs – take part in forestry, and sell your products to expand your farm! Transport your goods with trucks and trailers, or load and drive trains to reach your destination. Grow your farm online with other players, and download community created mods across each platform for an ever-expanding Farming Simulator experience!
Cities: Skylines is a modern take on the classic city simulation. The game introduces new game play elements to realize the thrill and hardships of creating and maintaining a real city whilst expanding on some well-established tropes of the city building experience. From the makers of the Cities in Motion franchise, the game boasts a fully realized transport system. It also includes the ability to mod the game to suit your play style as a fine counter balance to the layered and challenging simulation. You're only limited by your imagination, so take control and reach for the sky!
Descriptions and images are created by the game's developers and is not our summary.